BY: Andrew Saprid ( manufacturing engineer)
After building the main parts of the 3Dot David in Solidworks, they were too small to 3D print. For the moment, it is the main problem for building and assembling the model. The picture below shows the quality of the 3D printed parts compared to the original parts. Because of the low quality of the printing, alternative methods were researched.

 CNC Machine
CNC machining is a process used in manufacturing that involves the use of computers to control machine tools. CNC stands for computer numerical control. With the computer, it can control exact positioning and velocity from a computer program that customizes an object.
A 2D or 3D drawing is created from a CAD program and then a code is created that the CNC machine will understand. The process is more precise than manual machining, and can be repeated exactly the same manner.  
The shopbot product on their site is a tool that precisely cuts, carves, and drills any machinery material. The figure below indicates a x and y axis for cutting material in either the x or y directions.
| | |
| --- | --- |
| Advantages | Disadvantages |
| Printing small parts will provide exact replica of the drawing made from CAD/CAM program. | If not proficient with CAD/CAM, then it will take 2 weeks to learn, which will take longer to learn the g code. It will take time and patience. |
| Fast Production | Need to buy materials, which could increase the cost |
Laser-cutting machine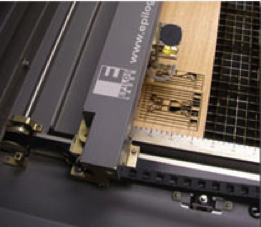 Laser-cutting will cut designs to create in most graphic software programs. Instead of laser printing paper, the machine will fire C02 laser beam that will cut through the material.
The C02 laser provides 30 – 120 watts of power

Engraving materials: wood, acrylic, glass, leather, corian, fabric, coated metals, anodized aluminum, stone, marble, ceramics, mylar, etc.

Cutting materials: wood, acrylic, plastic, delrin, cloth, leather, melamine, paper, rubber, veneer, cork, etc.
The Advantages of C02 Laser Cutting
The laser creates a beam of light that is used to cut through the material.

For thinner materials, all Epilog laser systems include an integrated vacuum table to hold down papers, fabric, and thin plastics as it cuts through the material.

It is very precise, following the design

Cut several patterns from the same piece of material.

Can be printed to the laser from variety of programs that include CorelDRAW, AutoCAD, and Adobe software

Molding and Casting
Although all are parts shall be 3D printed, this is the last resort, if 3D printing cannot print small parts.
One of the first steps is to design a mold in Solidworks to produce the parts.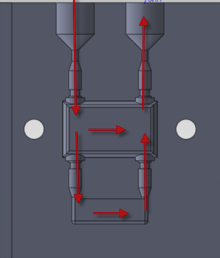 When making a part, there should be a way for any air in the mold to be pushed out. This shows the flow of resin.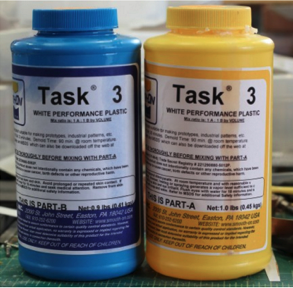 When casting the parts, according to the blogger, his favorite resin supplier is Smooth-On. It is very strong and flows wells into tiny parts. The cost is $27. The materials will be enough to make hundreds of the parts.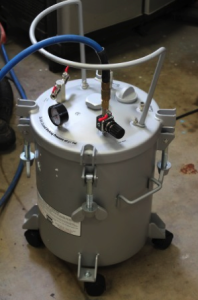 When making the perfect part, it is put inside the pressure pot because of the air bubbles the resin produces in the part. It is pressurized to 60 PSI using an air compressor, which eliminates air bubbles.
This is the last resort if any of the methods of printing small parts is not working. The reason this is the last resort is because COST is the issue. But the advantage of molding will make lives easier when replicating a part, making production faster.
Here are the materials he used:
-Solidworks
-MeshCAM CAM Software
– Delrin Sheets for the molds $6.84-$878.56 on Amazon
-Pipettes $2.98-$15.73 on Amazon
-Smooth-On task 3 Resin $26.41 on Amazon
-Smooth-on 200 Release Agent $13.20 on Amzon
-Smooth-On Pressure Pot
Stereolithography

This is a technique for creating 3D objects, in which a computer-controlled moving laser beam is used to build up the required structure, layer by layer from a liquid polymer that hardens on contact with laser light.
| | |
| --- | --- |
| Advantages | Disadvantages |
| Parts can be shortly | Can be expensive depending on which company service it provides |
| Creates smoother surfaces | Companies have charged $30/hour |
| Smoother surfaces mean high level design detail and will be accurate | SLA machine equipment can cost between $100,000 and $400,000 |
| Size doesn't have to be an issue | Simple small finished prototype starts at $100 |
| have lots of finish options | |
Companies that offer services for Stereolithography:
Quickparts

Ponuko

Shapeways

3D

Scicon Technologies
References:
CNC Machine
http://www.thomasnet.com/about/cnc-machining-45330503.html
http://www.datron.com/Small_Part_Machining.htm
http://www.shopbottools.com/mproducts/whatscnc.htm
http://blog.cnccookbook.com/2012/02/22/10-things-beginning-cnc-milling-machine-users-need-to-succeed/
Laser Cutting Machine
https://www.epiloglaser.com/laser-cutting/laser-cutting.htm
Molding and Casting
http://www.machinistblog.com/casting-small-parts/
Stereolithography/SLA printing
http://www.intechrp.com/advantages-of-stereolithography/
http://intermag-modelex.com/advantages-and-disadvantages-of-laser-stereolithography/
http://www.designboom.com/technology/low-cost-stereolithography-3d-printer-by-formlabs/
http://www.cs.cmu.edu/~rapidproto/students.02/sstille/project2/sla.html
http://honeybuild.com/guides/stereolithography
https://www.arxterra.com/wp-content/uploads/2016/03/CAM_movement_system_2-1.jpg
200
200
Omar mouline
/wp-content/uploads/2013/04/Arxterra-Logo-340x156.png
Omar mouline
2016-03-11 20:12:08
2018-03-13 20:17:57
Spring 2016: 3DoT Spider-Bot Alternative Printing for Small Parts.