By Matthew Clegg – Computer & Control Systems
It all began earlier in the day. Group members Kristine Abatay, Simon Abatay and Matthew Clegg met early in a classroom, for a last second check to ensure everything on Spiderbot was working properly.  A couple of screws were tightened and the Android phone was connected properly to the Arxterra website. The group had lunch to prepare for the race. At around 2 o'clock, Spiderbot, Hexapod, and Rover met on the predetermined course.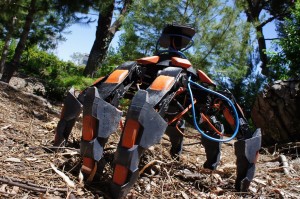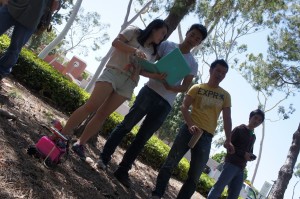 There was a bit of nervousness coming from all the groups. Who would come out on top? Who would be showered with glory and accolades as the victor or who would crash and burn in failure and leave bitter and dejected? Negotiations quickly took place to shorten the course with less obstacles but this did not go through because the original course was outlined in the requirements and had to be the one all of the projects would race on.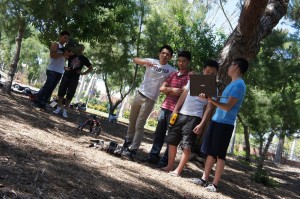 Both Spiderbot and Hexapod were fairly large, so having them all line up and race at the same time would have proven difficult. It was decided that each project would go individually and a time would be kept as it traversed the track.  All of the groups had difficulty at first establishing a connection due to Wi-Fi issues but it was all eventually settled by having only one project at a time connected to the Arxterra control panel.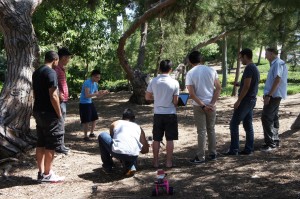 We (Spiderbot) got everything up and running and decided to go first. The first two steps started off well, but after that things quickly deteriorated. The pathway was on uneven ground, so with each step, Spiderbot slowly drifted to the left. Attempts to correct this did not fare well either. As it was turning, it lost footing, which caused it to collapse. It was picked up and set on course again. The next problem to arise was the servos. The rear right servo that causes the spider to lift its leg started making a horrible grinding noise with each lift. The weight of Spiderbot might have been too great for the servos to sustain for an extended period of time. At this point, it was decided to shut everything down to prevent further damage. Simon opened up the servo and found the gears inside to be busted.
The total distance traveled was roughly 6 feet at a time of around 3 minutes. Hexapod and Rover reached a further distance but did not have their share of issues. No project completed the full course. Spiderbot was defeated that day, but it was not a total loss. The knowledge learned from the track can be used by future projects for better planning and design. From the ashes, Spiderbot shall rise again like the phoenix.
Here's a link to a video of the exciting race day!:
https://www.arxterra.com/wp-content/uploads/2014/05/Blog17_preview.jpg
500
728
arxterra
/wp-content/uploads/2013/04/Arxterra-Logo-340x156.png
arxterra
2014-05-21 05:41:43
2018-03-13 20:07:56
A Day at the Races